by Deadlocked Escape Rooms Reading (website)
122 Castle Hill, RG1 7RG
£15.00
It is October 31st, the eve of Movember, and 'T' is working late instead of hosting his famous annual Halloween party, but this leaves him without his shaver when he needs it the most. Movember starts tomorrow, and the Wexell Corporation competitive mo-growers take it VERY seriously. So seriously in fact, that if he hasn't shaved by midnight, they will count it as him CHEATING AT MOVEMBER. You'll have to break into the security at the Wexell Corporation, but only if you can help his colleague, Joey, get into his house and locate his surprisingly well hidden 'special razor'. Why does he need this specific razor? Why is Joey going along with this mad-capped adventure, and can you help a rapper come up with an on-brand rap before it's all over? All these questions and more can only be discovered by playing 'The Movember Virtual Moscape Room'. It's about to get hairy!
show full description
Overall rating

based on ratings from 2 users
combined with 1 pro review
Player reviews
Reviews by escape room review sites
With a catchy theme song, immersive narrative, wacky humour, and clever puzzles, not to mention achievements to unlock and a nifty completion certificate, there's nothing not to love about The Movember Virtual Escape Room

This game could be played as a solo player or as a team. Either way you'll have tons of fun solving puzzles while supporting a good cause and learning about how you can help with global issues. We are thankful for Deadlocked Escape Room & Movember for creating this game and including us in the creation for such a great cause. We hope everyone could support and spread the message to check on your Mo-Bros and Mo-Sisters and see how they are doing during this difficult time and perhaps reconnect and invite them to play a game with you!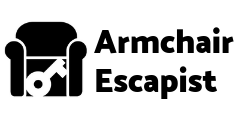 Full of humour and heart
Deadlocked's Moscape room is great fun. Being a charity collaboration, it's more accessible than their first two games and so is an easier entry point into Deadlocked's puzzle-verse. So if you fancy yourself a more serious puzzler, I recommend playing the extended edition (just add EX at the end of your game code when you first play).
The game lets you become hacker and detective all in one, and its heart and humour carry you through to a satisfying conclusion.
The thing I love most about Deadlocked's rooms is that you're never just a player trying to get to the end goal. They craft characters that you can't help but bond with, and the journey becomes almost as important as the destination. Like I said when playing The Cyphstess, you're left with a warmth that goes beyond the satisfaction of winning.
See also
Login