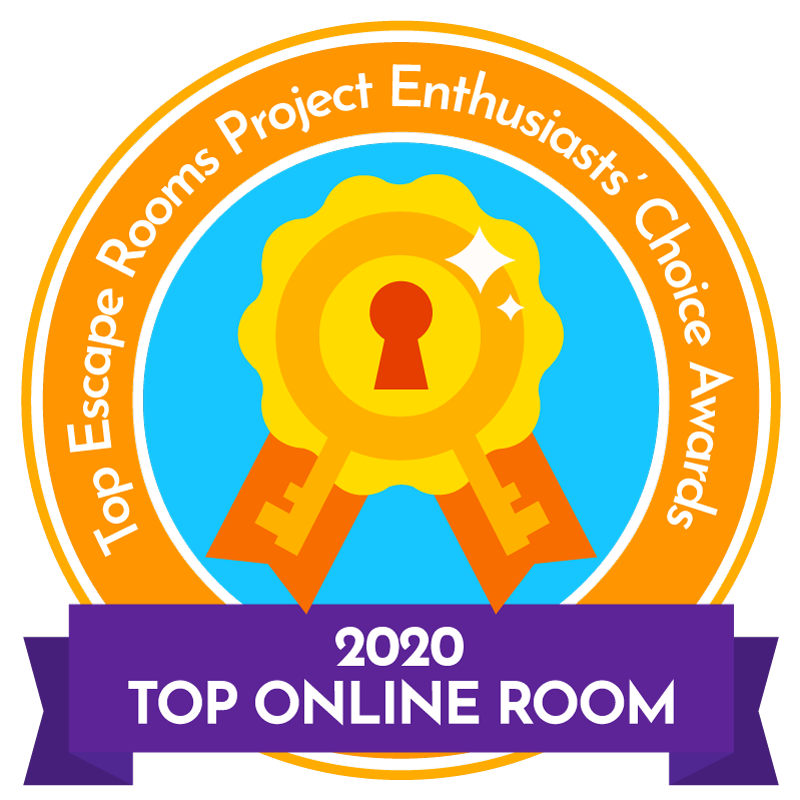 by Emergency Exit Escape Rooms (website)
12A George Street, OL6 6AQ
Up to 6 players
£100.00
Languages: EN
Exclusively play a unique experience - only available online - combining Conjure + Poltergeist! The game includes spoilers from both physical games. The rooms may LOOK the same online, but the game-play isn't!
Deep in the forest of Crowley Manor lies a secret as dark as the house itself; maybe even worse?
There's a cabin in the woods with a legend of the supernatural. Long abandoned, there have been strange sightings and many people have disappeared, as reported in the news over the years, never to return.
You should NOT enter! The question is... can you escape parts 2 and 3 of the Crowley Manor story? There's lots of puzzles to solve before you can.
Based in the same reality as our EXORCIST game, Crowley Manor. You'll be playing in the actual Conjure and Poltergeist rooms by controlling a Game Master.
show full description
Overall rating

based on ratings from 21 users
combined with 9 pro reviews
Your review
Player reviews
gaia00
experienced
rated this:

Charly
expert
rated this:

Team size:
7
Outcome:
Successful escape!
Really fun game. The crew and set-up are great, heaps to do - really well worth the money. Looking forward to them releasing another game.
🦡
cipherdelic
virtuoso
rated this:

Outcome:
Successful escape!
After playing the Exorcist I was so looking forward to this one and boy oh boy, it didn't disappoint! Picking up the action just after the end of the Exorcist you're back in Crowley Manor and luckily Liam is there to help you! Again the production is excellent and the decor fits the rooms nicely.
Extending the gameplay over the 90minutes really allows for the narration and the interaction with Ronnie (the avatar) to develop, which gives the entire game a feeling of being told a ghost story as you're fixated on the screen listening to the tales which are expertly woven in between the puzzles and locks. Well themed puzzles, which are nicely varied so the 90 minute game doesn't have any repetition and there is a well executed segway to get you from one room to another (as its played over two different IRL rooms).
Again I can't commend Emergncy Exit enough for the use of a second person to do camera work, and only camera work, this gives you the feeling that you're in a movie, and our picture quality throghout the game was excellent with perfectly timed set pieces being played seemlessly. Ronnie is a real star of the game as he responds to your team and tailors the gameplay so you all get the most from the game. You want more banter?... hes got lots of comebacks and funny lines. Want more scary stories? H'es got a huge knowledge of Crowley history which he can tell you. Its this level of personalisation that elevates this room above other remote rooms.
A real must play, I just hope that they're going to make this into a three-quel!
egnor
expert
rated this:

Super great narration, camerawork, special effects, and general atmosphere.
Anonymous rated this:

Anonymous rated this:

Anonymous rated this:

Played:
8/29/2020
Outcome:
Successful escape!
Stupendous adaptation of an in-person room with some of my favorite remote game characters and some impressive narrative twists designed specifically for remote play.
Anonymous rated this:

I highly recommend this!
One of the best virtual games I of ever played (and I played some)
Anonymous rated this:

George rated this:

Reviews by escape room review sites
Emergency Exit's first remote play game was an excellent adaptation of their existing Exorcist game. Their sequel, The Beast, is adapted from a combination of two physical rooms (Conjure and Poltergeist), and while I haven't played those my impression is that they've been used as raw materials to create a new game specifically for remote play. There's probably a lot of overlap with the physical games' puzzles, but the overall result is its own thing.
I guess you could play Beast stand-al...
See also
Login