1+ players
Scattered around the globe, parts of a legendary naval diary.
Writings of an insane mind others say while stories speak of a greater mystery, filled with sea monsters, dreams, nightmares and messages from other dimensions. Years since its disappearance, the sea legends speak of a dark journey on a ship long forgotten. Seamen refused to speak of it, knowing what it is said to do to those who challenge it.
All that until now.
The missing pages of this journal have been mysteriously put together.The sailor's diary has now been remade.
show full description
Thank you for helping keep Escape the Review up to date!
Let us know what needs changing:
If you own or manage this company, you can also
claim the listing
and update it yourself
Overall rating

based on ratings from 5 users
combined with 2 pro reviews
Your review
Player reviews
Anonymous rated this:

Darren Miller
expert
rated this:

Anonymous rated this:

Anonymous rated this:

stairs
expert
rated this:

A derivative of Journal 29, yet fails to capture the innovation or quality of the puzzles in that title. Relies on an internet connection, not only to check/submit answers, but also to access some of the puzzles themselves (e.g. a link to a website containing an audio recording of a sea bell chiming a Morse code message. In a book..... and why?!), which suggests that not much thought has gone into construction or selection of the puzzles - it's a bunch of common escape room formats, riddles, and optical illusions thrown into a book, without consideration of the affordances or opportunities of the media in which it's presented.

There is a supernatural story of sorts, but it's riddled with spelling mistakes - glancing at the first few pages, I can spot "myshelf", "trully", "Januray" - and, when some of the puzzles rely on observation of patterns in letters, these kind of QA errors can be game-breaking.

Reviews by escape room review sites
Trip 1907 describes itself as an "interactive escape the book game"; many will immediately notice the resemblance in style and presentation to Journal 29, from which it readily acknowledges drawing inspiration. It has not only the same format of one puzzle per full-page spread, with a website used to verify answers, but the art style feels reminiscent of the earlier book too. (Full disclosure: I backed this book on its crowd-funding launch campaign.)
One major difference is that where Journal 2...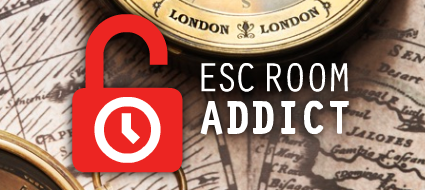 6.4 / 10.0
You find yourself piecing together a cryptic naval diary in order to discover a series of mysterious events that were lost at sea till not so long ago. Will you be able to uncover the journey… or will your sanity succumb to the monsters, nightmares, and strange happenings before you reach the end?
See also
Other versions of this game:
Login