by Escape Reality Birmingham (website)
60-62 Constitution Hill, Jewellery Quarter, B19 3JT
2-6 players
60 minutes
There have been reports that there is a serial killer on the loose. Many people in the area have gone missing and no traces of their whereabouts have been discovered. Only one survivor has lived to tell the tale of what happened in the killer's lair. Rumour has it that he forces his prisoners to perform ghastly tests to see how far they can push themselves in order to escape. You have suddenly awoken to discover that you have been locked inside a room of complete darkness with no recollection of how you found yourselves in this situation. Your captor has devised a series of games to test how much strength you have in order to save your own lives.
show full description
Overall rating

based on ratings from 7 users
Player reviews
Siân O'Brien
says:
I don't find Escape Reality particularly atmospheric and the staff are too busy to dedicate a GM to any group.
As this is a scary room, we did ask how scary and our GM was very descriptive, which wasn't what I wanted. He gave too much away, but in a confusing way that actually resulted in us wasting time some times doing what we thought we were supposed to do, based on the hints that we'd had. It would have been much better if he just hadn't said anything.
Overall, the story was good, the execution was OK, the set was quite flat and sparse but we did have a good time. A couple of red herrings threw me, so if you find there's something you can't figure out, try moving on to something else because you might be trying to find something that isn't there.
Anonymous says:
This is one of those 'creepy' games which isn't quite as scary as you might like! We sailed through the first two thirds of the game, then got hung up on something daft and wasted lots of time. The room was quite well dressed, compared with some, and there had been some effort to carry the theme throughout the room.

cipherdelic
expert
rated this:

James Bloodworth
expert
says:
Fairly well themed captured scenario (the film Saw has a lot to answer for), you start the room chained up and, surprisingly, the first thing you find is not they key. Good game with some clever ideas throughout.

Scotus0
experienced
says:
Do You Want to Play (Another) Game?
With its half-price student deal, you can't keep me away from Escape Reality for very long.
Story
Escape a serial killer's lair by passing their series of tests. The ol' SAW storyline. Oddly, the picture on the website made me thought it's a pirate game, what with the skeleton and chains.
Puzzles
Intermediate difficulty. It did take us a bit of time to get going, but after that we were pretty much on our way. They used the sort of paraphernalia you'd expect to work with in this type of game. One or two appeared similar to puzzles I've tackled in their previous rooms.
Mise-en-scène
I liked the 'captured' situation we started off in. It had the feel of a dingy, grimy lair with sparse lighting and big, disconcerting props to interact with...definitely a place where a serial killer would store victims. Regretfully, though, there were plenty of cheap rubber limbs hanging about to remind me it's just a game.
Final Comments
A decent, slightly creepy challenge for two (not 'scary'). Take a couple more people for just as much fun.

Brian
experienced
rated this:

Reviews by escape room review sites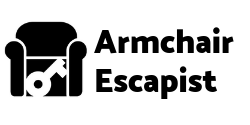 A tough nut
A well-decorated and challenging room, Enigmista lures you into a false sense of confidence in its first half. The second half becomes much more difficult and requires more lateral thinking than our inebriated brains could handle.
See also
Other copies of this game in other locations:
Login