by DarkParkGames (website)
1-4 players
£40.00 $54.40
📦

play at home
150-180 mins
While playing Witchery Spell you will meet 5 young witches. One of them recently turned 23 and mysteriously disappeared from the face of the earth. What happened to her and does the same horrific fate await the others? As young girls, they performed a ritual from an ancient book they found. Now it turns out that this seemingly innocent child's play may be their downfall. The problem: only someone who is not a witch himself can lift the spell, but what are the consequences? Are you brave enough to unleash the powerful ancient magic once again?
show full description
Overall rating

based on ratings from 13 users
combined with 1 pro review
Player reviews
Reviews by escape room review sites
This is probably one of the most immersive play at home games we have played so far. It carries a premium price, but I doubt you will find anything else like it out there. We felt like it promised a bit more magic than it actually delivered, but it was still a delight to play.

Witchery Spell stood out from the crowd of play-at-home escape games by combining story, puzzles, and design into a polished, cohesive experience. DarkPark Games didn't just assemble a box full of themed puzzles that could be found in a magazine. They conjured a self-contained experience that felt magical from start to finish.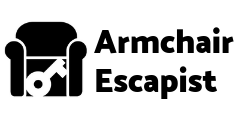 Enchanting
Witchery Spell is one of the most immersive puzzle games I've played. The narrative is solid and grips you from the moment you open up the box.
The puzzles are solid, but it's the storyline and the sense that you're an active participant in the narrative that will stay with you.
See also
Login