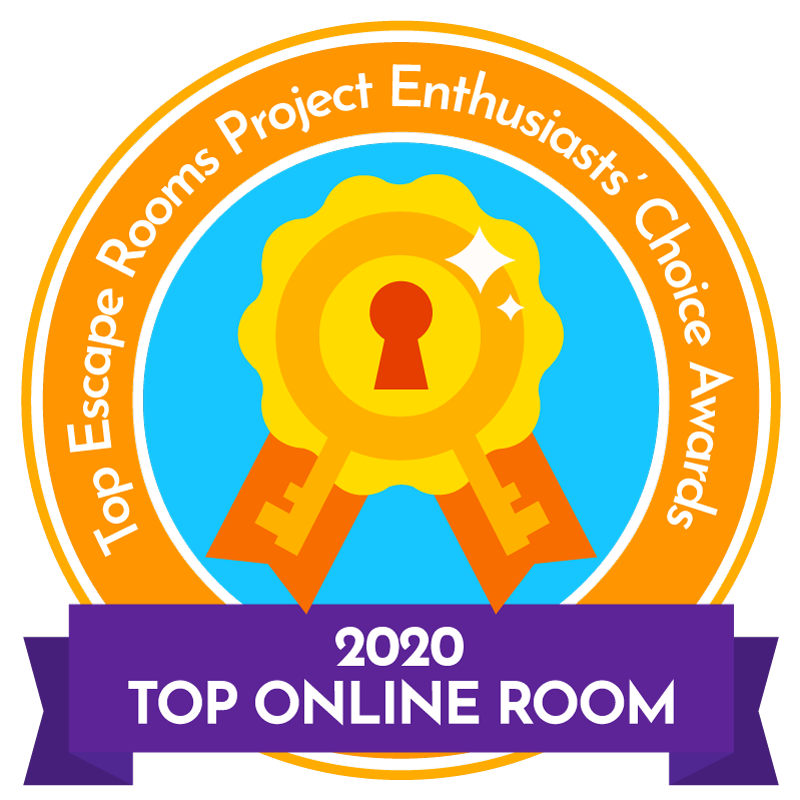 by Mad Genius Escape Co. (website)
1444 SE Hawthorne Blvd, OR 97214
1-4 players
£64.00 $80.00
Languages: EN
You may recognize Edith Humphreys, your sweet neighbor with 24 cats. You may have even helped her out, snooped around her apartment. But there's something about Edith that doesn't quite add up... she looks way younger than she is, she says she was born in 1902 but that she's 97 years young... and she lives at a business called Mad Genius Escapes?! What is going on here...
show full description
Overall rating

based on ratings from 17 users
combined with 8 pro reviews
Your review
Player reviews
PuzzleParrot
expert
rated this:

Like nothing I've ever played before. I really really wish there were more remote asymmetrical games like this.

🦡
cipherdelic
virtuoso
rated this:

Wei-Hwa Huang
expert
rated this:

Played:
5/7/2020
Outcome:
Successful escape!
Yeah, I think all the future play-at-home games are going to be compared to this one. The main drawback is that it's not really an "escape room", but rather a group-interactive detective experience.
Tammy McLeod
expert
rated this:

Played:
May 7, 2020
Team size:
4
Time taken:
52
Outcome:
Successful escape!
This game is refreshingly unique and captures the feel of a party game very well. The puzzles utilize the online group format in clever ways. This game is definitely among the best I have done so far!
Anonymous rated this:

Best of the play-at-home games I've played so far in that it provides an engaging experience and unique role for all four members of the team in some innovative puzzles, plus the theme is adorable and quirky as can be!
Anonymous rated this:

stairs
expert
rated this:

Played:
30/05/2020
Team size:
4
Time taken:
0:57
Outcome:
Successful escape!
The Truth about Edith is a delightful, whimsical 1hr experience that lies somewhere between escape room, immersive theatre, and ARG. Many of the recent online, "virtual" escape room games can feel a bit emotionless - leaving players feeling as though they were just remotely interacting with a distant videogame. But Edith, despite being 100% digital, exhudes human charm and intimacy, due in part to the wonderful live characterisation of the eponymous mad old cat-lady Edith.
It is also a somewhat unusual experience in absolutely requiring a team of 4 players to participate (each on separate devices, even if they are co-located in the same room). While this may present somewhat of a constraint to team formation, it means that Edith can make use of puzzles explicitly designed for 4 people in which every team member has a crucial role to play. This further aids the humanity and co-operative warmth of the game - you simply cannot win unless every player contributes their part. The puzzles span a wide variety of styles:- there's some digital versions of classic escape room assembly and combination puzzles, ARG-esque use of external websites, social media, and email, interaction with a live actor, and a chaotic multiplayer co-ordination task along the lines of "Spaceteam" or "Keep talking and nobdy explodes". They're silly, well-made, and lots of fun.
We experienced one brief technical glitch (no fault of the company - one of players lost their Zoom connection at their end), and our attentive gamesmaster immediately paused the clock, waited until they reconnected successfully, and then allowed us to resume the game. And we had a lovely opportunity to chat to her afterwards - to meet the "real" Edith, and ask any questions - all from the other side of the world. Highly recommended.
San
rated this:

Anonymous rated this:

Played:
11/06/2020
Team size:
4
Time taken:
56:56
Outcome:
Successful escape!
We had great fun playing this - it was set up well to make sure that everyone participated equally and our hosts were funny and engaging. I wasn't that sure about rooms with live actors tbh, but they have done this so well it doesn't feel awkward, and as it is designed as on online game it isn't the case that you are trying to do a real life ER. Recommended!
Charly
expert
rated this:

Time taken:
51.00
Outcome:
Successful escape!
Disappointed by the lack of 'room' and how little facetime you have with the avatar on this one. Clever idea, but needed more explanation of the plot and at times we just were on websites feeling a bit lost.
Reviews by escape room review sites
When lockdowns caused a wave of play from home escape experiences to spring up, The Truth About Edith was one that really didn't fit into any neat category. With hundreds of games now available, it remains in its own category of one, sharing elements of online, ARG and live hosted games in its own distinctive mixture.
Your job is to investigate a suspiciously energetic old lady who appears to live at the Mad Genius Escapes escape room venue. You do this primarily via a variety of websites and o...
See also
Login