by Beyond Breakout (website)
4th Floor Agricultural House, Newtown, SY16 1BS
2-6 players
60 minutes
​The Queen of Hearts has been displeased by your friend the Hatter and imprisoned him. You have an hour to find and free him before it's "Off with his head!!"
show full description
Overall rating

estimated score
not from direct reviews
Player reviews
Reviews by escape room review sites

"Adventures in Puzzle Land" was an "Alice in Wonderland" inspired escape room. Our goal was to venture into this mysterious land and retrieve the crown from the Red Queen before she can screech "OFF WITH OUR HEADS"!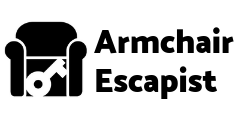 A fun romp
Alice in Puzzle Land Live is a fun romp through a familiar setting that's been well adapted to work remotely, the experience made all the better with Lorna and Jo as your eyes and hands. We played as a duo, but I think a group of three would work well so you've an extra pair of eyes to pick up on anything important.
This would work well for a family that wants a fun activity together but can't make it to the physical room.
See also
Login