by Society of Curiosities (website)
1-4 players
£9.00 $12.00
The Society has been tracking strange events around Lone Tree, a small town renowned for its witch history.
Dispatch your team to Lone Tree and track down the source of these strange events.
You will communicate with your team on the ground via text message to guide them, search the web for clues, and immerse yourself in a world of mystery - a light and whimsical adventure that will delight you and have you doubt what is real!
show full description
Overall rating

based on ratings from 2 users
combined with 1 pro review
Player reviews
Reviews by escape room review sites
If you're looking for an immersive, family-friendly adventure you can't go wrong with The Bewitched Circus. The game is perfect for Halloween, but don't worry, any spooky theming is very light, and the game would be a delight at any time of year

One thing that has always been consistent with Society of Curiosities' products is the research they've done on all the relevant information that pertains to the story line of their games. Whether it's 15th century pirates searching for treasure or looking for the whereabouts of 16th century secret society, you'll guaranteed to experience that era (and learn something at the same time). They are great at making the players feel so immersed that they will get confused on whether the information provided in the game was real or not. They've done it here again...If you've played all of their games already and are fans of their design style, definitely check out their Kickstarter: Fairy Tale Files while you wait for Adventure 3: The Memory Stone!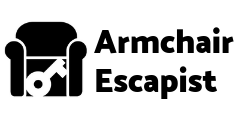 Superb!
The Bewitched Circus continues the great style of storytelling and puzzlecraft that Society of Curiosities is known for. You immediately feel part of the story as you direct your contact through the mysterious circus. If you enjoyed Mysterious Map Heist, I'd highly recommend playing The Bewitched Circus.

See also
Login