by Bluefish Games (website)
Looking for a challenge? Take the stairs!
An at-home puzzle game prequel for room escapers, board gamers and the curious-minded.
show full description
Overall rating

based on ratings from 2 users
combined with 1 pro review
Player reviews
Reviews by escape room review sites

Charming!
Bluefish Games … I think we can all agree they're one of the most loved game making couples in the world! Which is why it it's just so exciting when they make something new! Anna and Ace are back at it again with a wonderful prequel to The Curious Elevator of Mr. Hincks: The Curious Stairs of Mr. Hincks (shortened hereafter as The Curious Stairs). It's a shorter sweet introduction to the world of Hincksyland – bright, colourful and absolutely charming.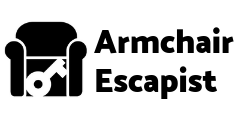 A joy to play!
The Curious Stairs of Mr. Hincks from Bluefish Games was a joy to play. It's filled to the brim with good humour and a wonderfully light tone that's refreshing to see.
There's creativity abound and it was able to breathe new life into some tired puzzle formats.
See also
Login