by Post-A-Puzzle (website)
Post-a-Puzzle is a wonderful way of keeping in touch. It can be used as a greeting card and gift in itself or even better, an exciting way to present a gift!
Select your card design and we'll send it with the puzzle pack.
Then add a message that you wish to send and upload an image or a video, too!
Once you checkout we'll get it all in the post . It's sent 1st class with free delivery and usually arrives next working day.
The envelope contains a welcome letter explaining that someone they know has a message for them, but they'll first have to solve each of the puzzles contained inside the pack to reveal the sender and your message!
Post-a-Puzzle is made with love from Escape Rooms Cardiff and would make an excellent way of presenting some vouchers to a puzzle lover! Why not add some gift vouchers to an Escape Room in your nearest city?
If you want to upgrade, at the checkout you can add biodegradable rainbow confetti to your card or a High Street Love2Shop gift voucher.
show full description
Overall rating

based on 1 pro review
Player reviews
Reviews by escape room review sites

Fun!
How to describe Post-a-Puzzle? So much fun! Whenever I review anything OF COURSE my current state of mind affects how I play and how I review. I headed into Post-a-Puzzle all bubbly and excited and it totally fit! THEN came the confetti. I'm sold. This was so darn fun.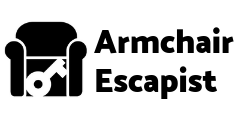 Great!
I fully plan on sending a Post-a-Puzzle to family members on their birthday next year. It's a fun puzzle experience that looks great and has a satisfying, personalised ending.
We played as a duo but solo players would have zero problems playing this (and given that it's designed as a gift, playing solo is recommended).
Post-a-Puzzle is a bright, fun game that makes a perfect birthday or Christmas gift. Check it out!
See also
Login