by Hatch Escapes (website)
1-6 players
£73.00 $99.99
You have just received "The Shelley Volumes," a collection of hollowed-out books left by Mary Shelley (author of Frankenstein) to her son, Florence. In the first volume, you find a message from Mary:
"Contained within these volumes is a secret many great men have devoted their entire lives to unearthing, and always in vain. It is a secret I would have taken with me to the grave, except that it is, in more ways than one, our family's legacy, and thus rightfully belongs with you..."
Beneath Mary's letter you'll discover a treasure trove of gorgeous hand-written documents, 2D and 3D jigsaw puzzles, mysterious objects and artifacts, and devious challenges. Prove your worth by studying the documents, constructing the jigsaws, and solving the puzzles... and you'll be treated to a heartbreaking story that culminates in a shocking reimagining of the truth behind Mary Shelley's famous novel.
show full description
Overall rating

based on 1 pro review
Player reviews
Reviews by escape room review sites

The prototype left us with a big cliffhanger moment. In volume 2, the story will take you to Castle Frankenstein in Germany. This is where you'll be using the 300-piece jigsaw puzzle that you've completed as a floor plan at a fancy ball in 1814. I wonder what could happen there? In volume 3, it's going to be even more epic! You're supposed to be constructing a 3D puzzle of Castle Frankenstein! This is where Mary learned from the famous alchemist and how she got inspired to write the first science fiction novel, Frankenstein. "Mother Of Frankenstein" transformed a table-top game into a beautiful immersive theater experience. Through the game play, we were able to feel emotions like happiness, sadness, surprise, confusion, empathy, accomplishment and more...The jigsaw puzzle was a perfect way to "piece" everything together and we can't wait to check out the final product!

Mother of Frankenstein was a narrative-driven experience with ample puzzle content. Hatch Escapes has a history of putting story at the center of their productions. One of their co-founders Tommy Wallach is a New York Times bestselling author… and his expertise showed in Mother of Frankenstein. The writing was fantastic, which it needed to be. When a company makes the bold decision to retell the story of one of history's most significant authors through an immersive narrative, writing quality matters.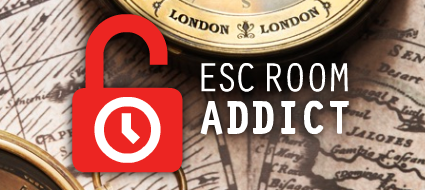 8.0 / 10.0
Take a journey back in time to nineteenth century England to the world of Mary Shelley, the Mother of Frankenstein!
See also
Login