£12.99
Overall rating

based on ratings from 2 users
combined with 2 pro reviews
Player reviews
Reviews by escape room review sites
Trapped have raised the bar for my expectations from an escape room in a box. The Art Heist is possibly on the easier side for hard-core escape enthusiasts but would be perfect for a family get-together.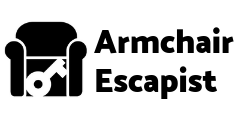 Innovative blend of escape room and board game
Trapped: The Art Heist is a fun and innovative take on the play-at-home escape game set up. It's a great and inexpensive way to bring the escape experience home.
I'd recommend this for families or those fairly new to escape rooms. For experienced players you'd probably do better with their more difficult game – The Bank Job.

3.8 / 5
It's always a pleasure to see a straight-up toy or game company take on the escape room format. Trapped succeeds at creating a high-energy, family-friendly option that's perfect for getting kids of all ages (grown-up ones included) into escaping.
See also
Login