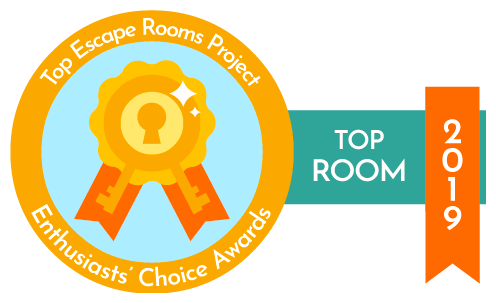 Aert Willemstraat 6, 5408 AL Volkel
3-7 players
60 minutes

Het is 23 juli 1970 als de schrijver Charles Grady samen met zijn vrouw en twee dochters intrek neemt in ons hotel. Hij is van plan om voor langere tijd te blijven zodat hij in alle rust zijn nieuwste boek kan vervolmaken. Naar het schijnt is het juist die rust die ervoor gezorgd heeft dat Charles al het contact met de realiteit verloren heeft en volledig is opgegaan in zijn boek. Het is voor iedereen een mysterie wat er precies gebeurd is, maar Charles Grady en zijn gezin zijn nooit uitgecheckt uit Kamer 237.
show full description
Overall rating

based on 5 pro reviews
Player reviews
Reviews by escape room review sites
Kamer 237 is based on the horror classic The Shining, a fact that almost caused us to leave it out of our schedule - which would have been a terrible shame, because not only is it an lovely game with some truly memorable moments, it's also really not a scary game at all, with nothing to worry nervous players beyond a lightly creepy atmosphere. In fact, while it takes much inspiration from The Shining, it seems to also draw on Cluedo for other sections, with an appropriately unthreatening environ...
See also
Login